PRODUCT PROFILE FINGER FOODS

If convenience is the password to the next millennium, then Future Enterprises is one that has risen up to the challenge and on its way to the Golden Bridge. Inaugurated in 1982,with the ingenuity of an ardent team of staff, the brainchild of Future Enterprises -instant beverages and food - received astounding success in North America, CIS, Russia, Eastern Europe, Middle East, Asia, Australia and other countries. The new economy is where we belong. With that in mind, a nouvelle marvel of culinary engineering - Klassno Finger Foods was launched. Having experienced an exponential growth in turnover in 1998 for our instant beverage line of products, we foresee escalation in turnover transcending past achievements with KLASSNO FINGER FOODS.

Savory delicacies just a touch of a button away.

The emphasis on preserving the authenticity of the food is the hallmark of Klassno Finger Food. Through the expertise and constant fine-tuning by our acclaimed chef, these exotic delicacies which feature bite-sized morsels of meat, seafood and vegetables wrapped in a thin coating of pastry or dough are manufactured with the absence of any artificial coloring, flavoring or added MSG.

This breakthrough in gourmet dining allows us to cater to a broadband of consumers, which encompasses the health-conscious consumer market. Consumers will also be spoilt for choice given the various methods of preparation such as microwave, steaming, frying, grilling and BBQ, mainly to bring greater convenience to the consumers.

The innumerable assortment of frozen finger food manufactured and carrying the brand name of Klassno Finger Foods comprises of the following:

Seafood Sui Mai (Seafood Dumplings)
By far the most ancient and popular of Dim Sum dishes, they are made by pressing thin coating of dough around bite-sized meatball filling, with the filling exposed at the top. Its shape has been compared to that of a miniature flowerpot. It is usually steamed but can be deep-fried or cooked in soup.

Tail-on Shrimp Dumplings (Shrimp Dumplings)
Marvellous translucent ivory dough filled with fresh, succulent minced shrimp and folded into graceful pleats and deep-fried. Alternatively, it can be grilled, steamed or cooked in soup. Its taste can be further complimented with a wide range of sauces or dressings.

Tail-On Shrimp Roll
Imperial golden dough ornately bejeweled with fresh, succulent whole and minced prawn, this conically shaped snack is prefried, to the delight of many as it is just minutes away from that crispy bit! Bake it in the oven or deep-fry, this guest pleaser can be enhanced with a wide assortment of sauces or dressing.

Crispy Seafood Deli (Chinese Moneybags)
Scrumptious deep-fried bite-size seafood meatballs with bits of vegetables wrapped in thin crepe. The color and shape of this delicacy resembles the auspicious moneybag, thus its local name, which attests to its immense popularity.

Butterfly Seafood Wantons (Chinese Rivioli)
Wontons are made by filling thin, square shaped dough with diced meat or vegetable. They are usually deep-fried when served as dim sum, although they are often simmered and served in soup, alongside other noodles.

Breaded Calamari / Shrimp Balls
A delectable finger food featured popularly on dim sum and buffet menus as well as in eateries. They are breaded bite-sized meatballs made of seafood, which are served by grilling or deep-frying. A favorite among many people, especially children.

Calamari / Shrimp Fingers
A variant from the fish finger, these are made from breaded bite-sized seafood meat that can be served by grilling or deep-frying. They are extremely popular with a great many people, like the Japanese who has a panache for seafood.

Vegetarian Spring Rolls (Vegetarian Crepe Pancakes)
A Cantonese dish traditionally eaten during Lunar New Year to mark the arrival of spring, thus its name. It is made by rolling a paper-thin egg and flour crepe into a cylindrical shape around a meat and vegetable filling, and then deep-fry.

Cocktail Samosa (Deep Fried Potato Patty)
A snack of deep fried dumplings stuffed with curried vegetables. Most common of the filling is potatoes or cauliflower with peas which has its origin in India but which has now integrated into many dim sum menus in South East Asia.

Curry Puffs (Curried Potatoes pastry)
A variant of western savory pastries, like the Cornish Pie, the French puff. It is a flaky pastry, wrapped around a curry-spiced potato filling to form a crescent, then deep-fried a fusion between Indian and South East Asian cooking.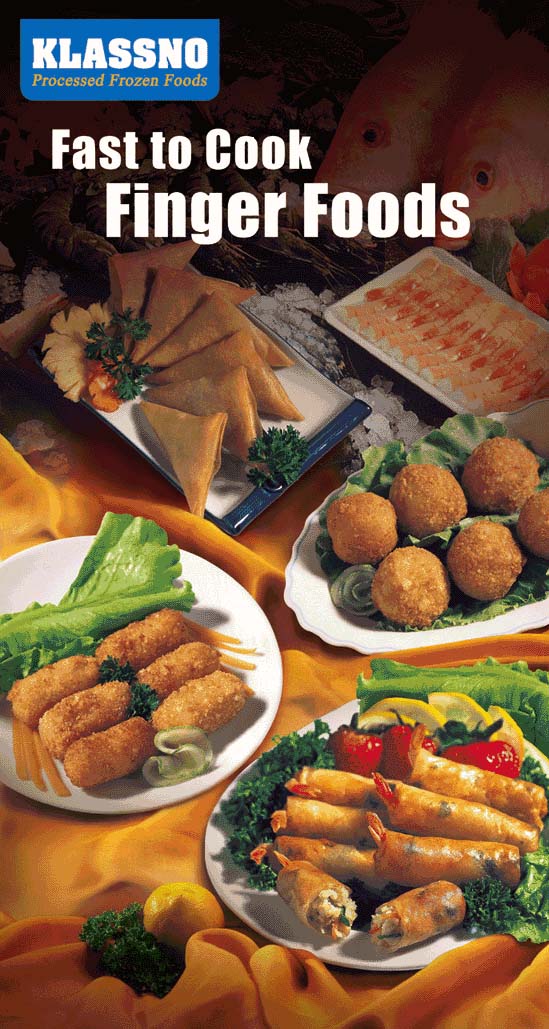 A few words from Future Enterprises..
Established since 1982, Future Enterprises Pte Ltds forte lies in the manufacturing and marketing of a wide range of instant food and beverages. Our initial success with instant beverages and food, where we have secure niche market in North America, Russia, Eastern Europe, Middle East, and other countries including Asia, reflects a huge potential market for quality convenient food and beverages. Not forgetting the fact that with globalization, the need for research and product development has therefore become the quintessential move.
Keeping this in the forefront of our mind, Future Enterprises begun to develop its own line of new convenient product, drawing inspirations from Hong Kongs unique culinary culture coupled with the American fast food culture the result Klassno ready-to-cook frozen finger food. Following With an exponential growth in turnover in 1998 for our instant beverage line of products, we foresee escalation in turnover transcending past achievements with KLASSNO FINGER FOOD.

KLASSNO FAST-TO-COOK FINGER FOOD

As fusion food becomes the international culinary trend, our line of finger food has also been tailored to the east-meet-west concept. We relish the rivalry from fast-food outlets and Chinese restaurants alike, however, with our emphasis on the nutritious value of food, the complete absence of any coloring, preservative or MSG in our range of food is another breakthrough.

The selection is plentiful - from the succulent delicacies of Hong Kongs teahouse to the tantalizing crispy snacks from the West Tail-on Shrimp Dumplings, Tail-on Shrimp Roll, Crispy Seafood Deli, Butterfly Seafood Wontons, Seafood Sui Mai, Vegetarian Spring Rolls, Breaded Calamari Balls, Breaded Shrimp Balls, Calamari Fingers, Shrimp Fingers, Cocktail Samosa and Curry Puffs. Each delicacy exquisitely moulds to perfection by acclaimed chef de cuisine and sealed by the latest technology to ensure freshness.

These perfect accompaniments to afternoon tea or party can be prepared effortlessly, through various form of preparation - steaming, boiling, baking, deep-frying, BBQ or using the microwave. Thus, introducing nutritional value to the range of finger food.

CERTIFICATIONS OF OUR SUCCESS

Our pledge to meet the most stringent industrial requirement has led to various acclamations. We have been awarded the EU No. 246.13.B, the HACCP (which is a prerequisite for export to most countries) and Halal certifications to cater to our Muslims consumers. In June 2000, mainboard-listed Food Empire Holdings, through its subsidiary, Future Enterprises Pte Ltd, received the ISO 9002 certification for the manufacturing and trading of instant beverages, which was our core competence. Our line of instant beverages, which includes cappuccino, chocolate drinks, breakfast cereal mix, flavored coffee and flavored tea mixes has since secured a niche market in the CIS, Turkey, Eastern Europe, South Africa, Indian sub continent, Middle East, Indo China, United Kingdom, and to date, inclusive of the South-east Asia region. With the recent launch of Klassno Cappuccino in Singapore, our distribution channel has once again raised to another level of growth.





OTHER NEW PRODUCTS..

27Feb2001 MALAYSIA: New member in Drinho family.

ACE Canning Corporation Sdn Bhd, a leading manufacturer of soft drinks and fruit juices, has added a new member to its Drinho "family".
And, it is sweet as honey.
The Drinho Honey Chrysanthemum Tea will be in the shops soon, and Ace Canning hopes it will be a favourite with people of all ages.
Ace Canning marketing manager Paul Lim said the original Drinho Chrysanthemum Tea had always been popular with the public and the company chose to give it a variant with the goodness of honey.
He said chrysanthemum tea had long been regarded as a cooling drink while honey was known for its soothing properties.

27Feb2001 PHILIPPINES: Jollibee says buys more shares in unit.

Philippine fastfood giant Jollibee Foods Corp said on Tuesday it will buy additional shares worth 105.92 million pesos in wholly owned subsidiary Bakers Fresh Foods.
A company official said the shares Jollibee will purchase comprise 66 percent of the total increase in Bakers Fresh's outstanding capital stock.
The company said in a statement to the stock exchange that it would subscribe to 105,922 shares of Bakers Fresh at an issue price of 1,000 pesos per share. No further details were given.
($1 = 48.27 pesos).

27Feb2001 JAPAN: Skylark Plans 2,000 Stores In 5 Yrs.

Skylark Co., a suburban family restaurant chain operator, will accelerate store openings better to fight stiff competition. It plans to open the doors of 2,000 new restaurants on a group basis over the next five years, compared with 2,266 restaurants as of Dec. 31, 2000. This will help boost its consolidated sales in the business year through Dec. 31 2005 to Y600 billion from Y347.68 billion in 2000.

27Feb2001 INDIA: MBL rolls out Bengal Premium beer.

MYSORE Breweries Ltd (MBL) has rolled out Bengal Premium beer after its success in overseas markets. The beer, which comes in dark green 650 ml and 330 ml light protected bottles, is priced at Rs 45 and Rs 27 respectively in Karnataka.
Bengal Premium beer, launched in the domestic market, is a variant of the brand, which MBL has introduced in Europe, South-East Asia, Australia and in the US. The brand is available across the 8,500 Asian curry restaurants in the UK. It was launched in Indonesia and recently entered the Australian beer market.
Mr K. P. Balasubramaniam, Vice-Chairman and Managing Director, MBL, told a press conference here that Bengal Premium would soon be extended to the two other major beer markets in India - Maharashtra and Andhra Pradesh. The company is also mulling its launch in States like Tamil Nadu and Kerala.
The three-decade-old MBL's strength in the domestic market has been in the strong beer segment, where its flagship brand, Knock Out, enjoys the number two position behind Shaw Wallace's Haywards 5000.
MBL service its markets, mainly in Karnataka, Andhra Pradesh and Maharashtra, from the breweries in Bangalore and Aurangabad. It has sought licence for a high-capacity brewery near Hyderabad.
MBL expects to sell approximately five million cases of beer in the domestic market during the current financial year.
Mr K. P. Balasubramaniam, Vice-Chairman and Managing Director, MBL, with the President, MBL, Mr K.G. Nayak, at the launch of Bengal Premium beet in Bangalore on Monday.






More new products coming soon!
If you would like us to feature your new products, please send us a photograph of the product (JPEG or GIF forms), including its launch date, place and country of launch, and any other information you would like our readers to know.